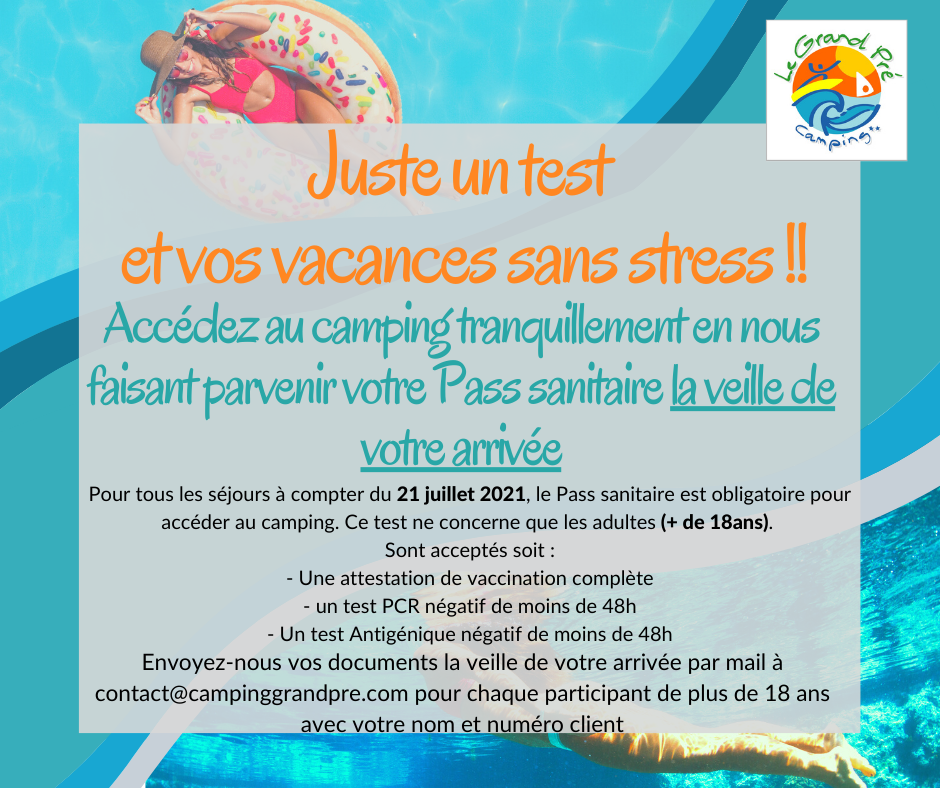 Are you hesitating to book your vacation? You can now ensure your next vacation with complete peace of mind by subscribing to our cancellation insurance and its COVID-19 COVER. Find the details below.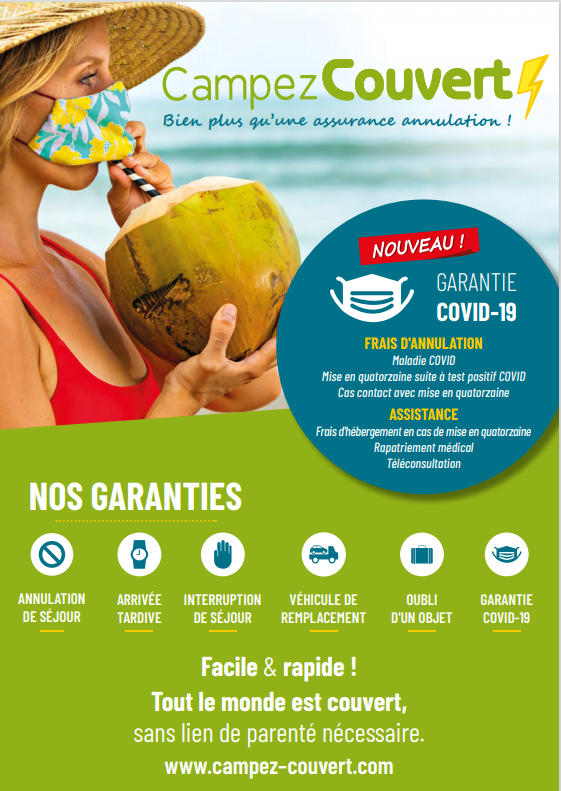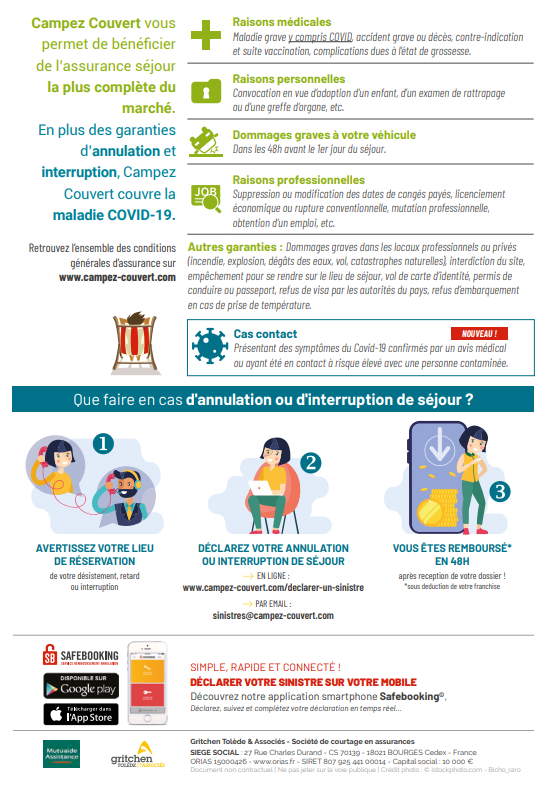 Open and Accessible!
03 June 2020
Our team is hard at work to meet your expectations and allow you to spend a pleasant holiday with us. The measures we are putting in place are part of a protocol recommended by the High Council for Public Health. A new point will be made on June 22 , allowing these measures to evolve.
The best precaution remains the application of barrier gestures,
That's why we're counting on you!
For a peaceful stay
"Without Restrictions"
In order to guarantee the safety of all, during stays in our campsite, we apply exceptional security measures, in which we train our staff. People staying at the campsite must respect national directives, in particular barrier gestures
We put in place: hydroalcoholic gel available at various strategic locations, a display of good practices as well as regular disinfection procedures.
Arrival at the campsite!
The pleasure of the holidays begins as soon as you arrive! To ensure the smooth running of your arrival, hydroalcoholic gel dispensers will be available, we prefer the method of payment by credit card and advise that only one person accesses the reception in order to establish the administrative procedures. The cleaning of the reception will be regular and carried out with adapted products, our doors will remain open, the wearing of the mask is recommended, and a marking on the ground will be carried out in order to respect social distancing.
The aquatic area
Accessible without limitation,
The chlorine inactivates the virus, the ultraviolet rays emitted by the sun also deactivate the virus "rather quickly". Our deckchairs will be disinfected, and you will also have disinfectant products at your disposal.
The most important measure remains social distancing within the aquatic area as well as barrier gestures. We are counting on your attention to respect barrier gestures and social distancing.
In order to avoid crossings, the changing rooms will remain closed.
Accommodation and sanitary facilities
In general, cleaning is reinforced, the provision and use of disinfectant products on a regular basis guarantee your safety.
playground
Open and available to all.
We ask for your kindness and to respect barrier gestures and distancing. Our team will carry out regular disinfection.
The beaches
The Vendée coast has been accessible to the public since May 16
The Vendée beaches are accessible for walking, swimming, individual sports, shore fishing, but static positions are prohibited there for the moment.
Technical interventions
In the event of an intervention by our technicians in your accommodation and on your pitch, you will be asked to respect the rules of social distancing and to limit the number of people present at the time of the intervention. Our technical agents will wear a mask during their interventions requiring it.
Equipment rental (barbecue, etc.)
The equipment made available (racket, ball, etc.) and that for hire (barbecue, etc.) will be disinfected with suitable products.
We make every effort to guarantee you a peaceful stay without imposing constraints and restrictions in compliance with national regulations. It is our commitment to your well-deserved vacation. This is why we make everything available to allow everyone to manage themselves independently and responsibly to your own sensitivity.
Come serene, rest, and enjoy your vacation !!
01 June 2020
Following the announcements made by the government and the need to put in place certain measures, the Grand Pré campsite will open its doors from June 26th. All the services usually offered will therefore be available. You will be able to take advantage of the opening of the aquatic area as well as the playgrounds.
Health specifications will of course be put in place but in no case restrictions. We are setting up bollards with hydroalcoholic gel available at various strategic locations as well as regular disinfection procedures. We will come back to you very soon to give you more details.
A new point will be made by the government for June 22. These measures are likely to change, which is why we remind you that you must continue to respect barrier gestures and take precautions so that this development is positive and that you can fully enjoy your holidays.
April 25, 2020
At the end of the exchange meeting of 04/24/2020 between the President of the Republic and the representatives of the Tourism stakeholders, no reopening date has yet been set. The next meeting has been set for the end of May. We therefore once again ask for your patience and understanding in the face of this exceptional situation.
April 16, 2020
Dear clients,
Many of you are asking yourself questions about your next vacation, the opening of the campsite or the possibility of still being in confinement this summer.
To date, and following the speech of the President of the French Republic dated April 13, we can inform you that our campsite will not be accessible before May 11, 2020. As we approach this date, we will have more information to communicate to you on the follow-up. Currently, this summer's stays are not compromised, together we must remain patient while waiting for the evolution of this pandemic.
Our campsite is ready, our team is just waiting to welcome you!
As soon as the green light is given by the competent authorities, it will be a great pleasure to welcome you to our establishment.
Change of scenery ! to live ! enjoy ! enjoy ! … These words have never been so important for you as for us. Stay patient, take care of yourself by following the instructions given, that's how we can meet more quickly.
Our team is hard at work and stays in touch with you:
We are contacting all our customers affected by the new provisions as we receive this information.
We answer your questions with the information we have at this time.
We are also awaiting measures and responses from the government.
No news from us?
Rest assured, either we do not yet have the necessary information, or you are not affected by the new provisions.
The confinement modifies our working methods, which is why we will ask you to favor contacts by email in order to be able to process your request as well as possible.
We thank you for your understanding, your patience, and above all we hope that your next stay with us will allow you to take your mind off things!!
Waiting to meet you,
The Grand Pré team.